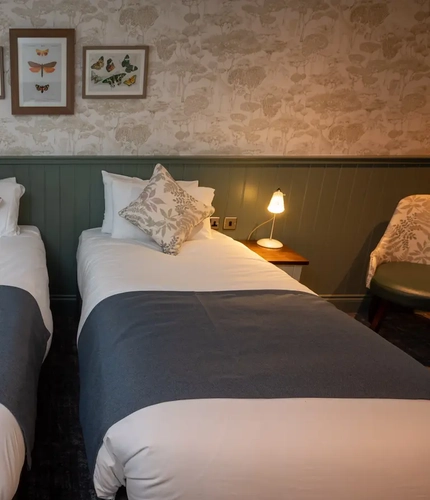 Terms & Conditions


Website
These terms and conditions govern your use of this website. Please read them carefully as they affect your rights and liabilities under the law.

If you do not agree to these terms and conditions, please do not use this website.

1. Use of this website

This website is provided to you free of charge for your personal use subject to these terms and conditions. By using this website you agree to be bound by these terms and conditions.

The terms and conditions do not affect your statutory rights.
2. Amendments

We may update these terms and conditions from time to time and any changes will be notified to you via a suitable announcement on this website. The changes will apply to the use of this website after we have given notice. If you do not wish to accept the new terms and conditions you should not continue to use this website. If you continue to use this website after the date on which the change comes into effect, your use of this website indicates your agreement to be bound by the new terms and conditions.
3. Access to and availability of the website

We will make all reasonable efforts to provide you with access to the website 24 hours per day without any interruptions. However, from time to time you may experience disruptions due, for example, to essential maintenance or problems beyond our control involving suppliers, communications, the internet, your own computer or software failures. Accordingly, we do not warrant that the website will be available continuously and is not liable for any downtime or disruption in website availability.
4. Passwords and security

You agree to (and agree to ensure that your directors, employees and agents):
Keep all passwords secret at all times and have them changed, if there is reason to believe that someone else knows them
Notify us immediately upon becoming aware of any accidental or unauthorised access or use of the service by any third party.
5. Intellectual property

The content and design of these website pages are subject to copyright owned by us. You are welcome to print pages for your personal use but no part of this website, our logos or trademarks may be reproduced or transmitted in any way for any other purpose.

Other than having permission to access the website and use the services in accordance with these terms and conditions, you agree that nothing herein creates or grants to you any right in or ownership of any intellectual property rights existing in the presentation or format of the website or in any software, content, information, data or databases provided through the website or used in or forming part of the services. This includes without limitation any registered or unregistered trademarks, service marks, logos, designs, database rights, copyright, rights in domain names or data owned by or vested in us or any third party ('intellectual property').


All rights in relation to intellectual property not expressly granted by us are hereby reserved to us (or our licensors) and no right, licence or benefit to such intellectual property is granted to you.
6. Property details

We reserve the right to change the details of any pub, hotel or restaurant at any time without notice.
7. Liability

This website is provided by us without any warranties or guarantees. You must bear the risks associated with the use of the internet.

We have made all reasonable efforts to ensure that all information provided on the website by ourselves and third parties is accurate at the time of inclusion, complete and up-to-date.

However, there may be inadvertent errors on the website for which we take no responsibility. We reserve the right to make changes and/or corrections to the website at our own discretion.
In particular, we disclaim all liabilities in connection with the following:
incompatibility of this website with any of your equipment, software or telecommunications links
technical problems including errors or interruptions of this website
unsuitability, unreliability or inaccuracy of this website
inadequacy of this website to meet your requirements
By accessing this website you agree that we shall not be liable to any person for any special, incidental, direct or indirect consequential loss or damage including, without limitation, loss of profits or revenues, cost of replacement goods, loss or damage to data arising out of the use of, or inability to use, this site which may arise from the use of this site or use or reliance on any of the information contained in any of the materials on this website or from access to other material on the internet via hyperlinks from this site.

Nothing in this paragraph applies to our liability in respect of products sold through our pubs, hotels or restaurants.

Nothing in these terms and conditions shall exclude our liability for personal injury or death caused by our negligence.
8. Third-party websites and products

From time to time this website may include links to other websites not under our control. We will accept no liability in respect of, the content on any external link.

Any information related to a supplier or product on the website which is not part of or produced by us or our group does not represent any endorsement by us of the quality of the supplier or product offered.
9. Termination

We may terminate your right to use the website by notice in writing to you if you breach any of the obligations under these terms and conditions.

On termination, you will make no further attempt to access the website or use the services and must delete all relevant passwords and any other website material.
10. Your liability

You agree to be liable for and to indemnify us (and our officers, employees, directors, shareholders, representatives, successors and assigns) and hold us harmless against all third-party claims, demands and actions and in relation to all liabilities, losses, costs, charges, damages and expenses (including legal fees) incurred in relation to such claims, demands and actions, to the extent that such liability arises from breach of these terms and conditions by you or use of your computer, passwords or secure means of access to the website by an unauthorised user.
11. General

If we fail to exercise our rights immediately, this will not by itself be taken as a waiver of those rights and we may still exercise those rights in the future.

If any of these terms or conditions is found to be illegal, invalid or unenforceable under applicable law, the offending provision will be severed and remaining terms and conditions will be unaffected (to the fullest extent legally permitted).

You agree that we may transfer its rights and obligations under these terms and conditions to another person. You may not transfer your rights or obligations under these terms and conditions to anybody else without first obtaining our written consent.

A person who is not a party to these terms and conditions shall have no right under the Contract (Rights of Third Parties) Act 1999 to enforce any term of these terms and conditions but this shall not affect any right or remedy of a third party which exists or is available apart from that Act.

Your use of this website and any dispute arising out of the website is subject to the laws of England and Wales. Any dispute arising out of the use or publication of this website is subject to the exclusive jurisdiction of the Courts of England and Wales.

This website is owned and operated by Greene King Brewing and Retailing Limited, a company registered in England and Wales whose registered office is at Westgate Brewery, Bury St Edmunds, Suffolk, IP33 1QT. Company registration number 3298903.


Bookings
Cancellation Policies: Bookings made on our flexible rates may be cancelled free of charge up to midday on the day of arrival. Rooms cancelled after midday on the day of arrival will be subject to a charge for the first nights' accommodation. In the event of non-arrival, the first night's stay will be charged for.
Bookings made on non-refundable rates will be charged at the time of booking and no cancellations or amendments are permitted.
Bookings of six or more rooms will be treated as a group booking whereby separate terms and conditions apply. For these terms and conditions please contact the relevant hotel
If you have a query about your booking, please call our central reservations team on 0345 60 86 040.
Greene King Inns may decline or cancel bookings made in advance or during the stay for any guest who breaches, or has previously breached, these terms and conditions (as may be updated from time to time), whether the reservation is in their name or not.
Direct marketing: From time to time, if you have stayed with us previously, we would like to send you marketing through the post. This will contain news, information and information offers about the Greene King hotel chain and our pubs. If at any time you would prefer not to receive mailings from us, you can opt out by emailing our Guest Relations team at guestrelations@greeneking.co.uk.
Methods of Payment: Greene King Inns accepts cash, in Sterling. Please note however that all payments made by cash will be charged on arrival and ID will be required in the form of a driving licence or passport verifying address. Greene King Inns also accepts payment using the following Credit and Debit cards:
MasterCard
Visa Credit
Visa Debit
20% Food Voucher: You are entitled to a 20% voucher to spend on food (excludes drinks) at our hotel restaurant during your entire stay when you book online. This offer excludes our Loch Fyne sites and if you select a Dinner, Bed & Breakfast package. You will be given a chance to opt-in to this offer before check-out. Your unique 20% voucher will be available in your order confirmation email if you opt in for this offer - you will still receive the 20% voucher if you are booking a Dinner, Bed & Breakfast package but as per the above term, further discount will not be applied to your booking and cannot be used during your visit. For all other bookings, please bring your 20% food voucher with you when you dine to receive this discount. See the full 20% food voucher terms and conditions for more information.
Check In/Out: Rooms are available from 2:00pm on the day of arrival. Earlier check in may be available on a request basis from the hotel. Check out time differs per hotel, please visit your hotel page to check your exact check out time on the day of departure; late check-out may be available and is subject to an additional charge at the discretion of the hotel. Please note, the reception desk isn't staffed 24 hours a day in some hotels.
Children: No person under the age of 18 can check-in and stay without their parents or guardian(s) over the age of 18. Up to two Children under the age of 16 sharing a room with adults stay free of charge subject to the availability of a suitable room.
Children under the age of 16 are not permitted to stay in their own room without an adult. Children aged 16 or 17 may stay in an adjacent room under the responsibility of their parent/guardian who are also staying at the hotel and have key access to the room occupied by the child/children. Cots are available at most of our Hotels and at no extra charge. Please specify at the time of booking if a cot or extra bed is required.
The maximum room occupancy must not be exceeded, and we reserve the right to undertake occupancy checks. Photo ID may be required to verify the age of any guest and therefore compliance with these terms and conditions. Please ensure you and members of your party bring ID as otherwise you and/or your guests may not be permitted to stay.
Deposits: All bookings are required to be guaranteed by either a credit or debit card or a deposit equivalent (at the time of booking) to the first night's accommodation.
Damage: We reserve the right and you hereby authorise us to charge your credit or debit card for any damage incurred to your room or the hotel during your stay (including without limitation specialist cleaning) or for any items that are missing when you leave. In any event , you are responsible for such damage or loss and will be liable to pay to Greene King Inns the amount required to make good the damage or loss.
In the event of non-arrival, the first night's stay will be charged for with the exception of group bookings (6 or more rooms) whereby different terms & conditions apply.
Prices: All prices include service and VAT. Greene King Inns reserves the right to alter published prices at any time for non-confirmed/guaranteed bookings
Hotel Offers & Promotions: Offers & promotions are all subject to availability & only available at the hotel stated. Offers & promotions cannot be transferred between hotels. All offers & promotions will state if per person or per room & are only available on the dates that the offer or promotion is available. All offers & promotions are subject to the individual cancellation policy (see Cancellation policy). If booking more than 6 rooms on an offer/promotion, then the groups Terms & conditions apply (please contact relevant hotel for these).
FRIENDS10 - Subject to availability – some hotels may be excluded from the offer on certain dates. Discount is based on the price of a standard double or twin room booking, including breakfast. Best Available Rates will vary according to your date of stay and between different Hotels and Inns. The promotion cannot be applied retrospectively to existing bookings and cannot be used in conjunction with any other offer or promotion.
Our Rates: We have a selection of rates available at our Greene King Inns properties. Flexible Rates are free cancellation until midday on the day of arrival. No payment required; no deposit will be charged for this room(s).
Hotel Details: We reserve the right to change Hotel details without prior notice. Please note:
Our room rates do not include breakfast, unless otherwise stated as part of an offer or a package
Unless a specified pet friendly hotel is confirmed at the time of booking, no pets are allowed, except guide dogs. Dog charges will apply at all locations.
Electrical appliances such as toasters, mini cookers or grills are not to be used in rooms
You must not advertise or otherwise offer any Greene King Inns room for sale either on its own or as part of a package
All our Greene King Inns are entirely e-cigarette and smoke-free, including the bedrooms. If you do not adhere to this rule, we reserve the right to charge you an additional £200
All photography is for illustrative purposes only
You must not, at any time, be threatening or abusive towards our team members or cause them, or any of our guests, any health and safety hazards including tampering with fire alarms and emergency equipment
Engaging in unlawful activity (e.g. illegal substances) and bringing potentially dangerous or hazardous materials or equipment on the hotel premises is not permitted
Our staff, including management, housekeeping and maintenance, may require access to your room during your stay. Whilst we will try to do so at a time that we both agree, access for housekeeping is required at least once every two days
Removal, damage or destruction of any hotel property is not permitted
Breach by you: Causing damage to the hotel, other guests or their property or breaching these terms and conditions in any other way is not acceptable. If you or your group behaves in such a way, Greene King Inns may, without liability for a refund or any other compensation:
Remove you from the hotel and cancel your booking
Keep any amounts you have paid for the booking, or charge you for such booking where payment has not been made in advance
Remove your items from the hotel and either dispose of them or donate them to a charity shop unless your items are collected within seven days
Cancel your key cards
Restrict access to the hotel
Reject any future bookings from you and prevent you attending any of our hotels
Lone Travellers Policy
We want all of our guests to feel secure when staying with us, particularly when travelling alone. Therefore, we offer a lone traveller policy which includes bedside lighting controls as standard in all rooms, the option of where you feel most comfortable in the restaurant where possible, an emergency contact telephone number available in all rooms and the knowledge that no room number will be read out on check-in unless specifically requested (if you do require assistance with your room number, please advise our staff member who will discreetly assist with this).
Competitions
1. Promotions are open to residents of the United Kingdom aged 18 or over only. Employees of the Promoter, their families, agencies, or anyone else professionally connected with this promotion, are not eligible to enter.
2. Winners will be informed of their prize within ten working days following the end of the promotion, unless otherwise specified.
3. The winner will be chosen at random from all valid entries received.
4. Reasonable efforts will be made to contact the winner using the details on entry. However, if a response has not been received within 48 hours, or if the selected winner is ineligible, otherwise in breach of these terms and conditions, or unable to take up the prize for any other reason, the Promoter reserves the right to select an alternative winner using the same process referred to above in these terms and conditions.
5. The Promoter accepts no responsibility for failed delivery due to the provision of incorrect contact details by the entrant.
6. The terms and conditions of any third-party supplier will also apply to the prize where applicable. If there is a conflict between third-party terms and conditions and these terms and conditions, these shall take precedence.
7. Prizes are non-transferable and cannot be sold or auctioned. No cash or other alternative to the prize will be offered unless in the event of unforeseen circumstances, in which case the Promoter reserves the right to offer an alternative prize of equal or greater value than the original.
8. The winner will receive their prize within 30 working days following the end of the promotion, unless otherwise specified. In any event the prize must be claimed and taken within six months of the closing date.
9. The Promoter is required to comply with the provisions of the Data Protection Act 2018 and the UK General Data Protection Regulation in relation to the processing of any personal information obtained from you, including when you take part in this promotion. The Promoter is a member of the Greene King group of companies (the "Group"), and the Group takes the protection of your personal information seriously.
10. By entering this promotion, you have provided your personal information (full name, email address and phone number) to the Promoter, who is the Data Controller. If you are a winner, we will also need you to provide your date of birth for age verification purposes. Your personal information will be processed by the Promoter in performing the contract you have entered into with the Promoter by taking part in the promotion.
11. Your personal information will be retained for a maximum of four months from the closing date to enable the Promoter to complete administration of the promotion.
12. In accordance with the Advertising Standards Authority CAP Code, the Promoter intends to make available the surname and county of any winner. Any winner that objects must notify the Promoter as soon as possible after they are informed that they have won.
13. You have the right to object to the processing of personal information and to have inaccurate personal data rectified, blocked, erased or destroyed. If you have a concern about the way the Promoter is collecting or using your personal data, please raise your concern with the Data Protection Officer in the first instance at dataprotection@greeneking.co.uk. Alternatively, you can contact the Information Commissioner's Office at www.ico.org.uk/concerns.
14. The Promoter may download cookies to your computer when you log on to the Promoter's website. For more information about the Promoter's commitment to your privacy and details of how the Promoter uses cookies, please refer to the Promoter's Privacy Notice and Cookie Notice at https://www.greeneking.co.uk/privacy/ and https://www.greenekinginns.co.uk/cookie-policy/.
15. No bulk, machine-generated consumer group or third-party entries will be accepted. Entries are restricted to one entry per person. In the event of multiple entries being received from the same person or account, only the first entry will be accepted.
16. The Promoter reserves the right to disqualify incomplete, altered or illegible entries. No responsibility will be accepted for entries lost, damaged or delayed, technical or telecommunications faults. Proof of submitting is not proof of receipt.
17. The Promoter reserves the right, in its absolute discretion, to verify the winner including, but not limited to, proof of identity and/or age, as required, and to withdraw a prize where there are reasonable grounds to believe there has been a breach of these terms and conditions or otherwise where an entrant has gained advantage in participating in the promotion or has won using fraudulent means.
18. The Promoter's decision is binding in all matters relating to this promotion, and no correspondence shall be entered into.
19. Owing to exceptional circumstances outside its reasonable control and only where circumstances make this unavoidable, the Promoter reserves the right to cancel or amend the promotion or these terms and conditions at any time, but will always endeavour to minimise the effect to participants in order to avoid undue disappointment.
20. To the extent permitted by law, the Promoter accepts no liability for any damage, loss or injury suffered (including loss of opportunity) whether direct, indirect, special or consequential, arising in any way due to entering this promotion or taking up a prize. The Promoter is not responsible for any third-party acts or omissions.
21. Entrants will retain ownership of any content, submissions and other material they submit as part of this promotion. However, entrants grant the Promoter (and its agents and affiliates) a non-exclusive, royalty free, worldwide, irrevocable, perpetual licence to use any such content, submissions and other material for the purposes of this promotion.
22. The winner may be asked to take part in publicity relating to this promotion but this will be discussed with the winner before taking place.
23. By entering this promotion entrants will be deemed to have accepted, and will be bound by, these terms and conditions.
24. These terms and conditions (and any non-contractual disputes/claims which arise out of or in connection with them) will be governed by English law and entrants submit to the exclusive jurisdiction of the English courts.
25. The Promoter reminds anyone entering this promotion to drink responsibly. Please visit www.greeneking.co.uk/enjoy-responsibly for the facts.
26. Promoter: Greene King Brewing and Retailing Limited Sunrise House, Ninth Avenue, Burton upon Trent, Staffordshire DE14 3JZ.
Last updated: April 2018